OK, ordinarily we'd say this after the fact, but let's be perfectly clear here — do NOT do what Naomi Campbell does!
You are not Naomi Campbell. We swear! There's only one, and you ain't her! Check your ID if you don't believe us.
Alright, now that's settled…
Naomi Campbell is an absolute LEGEND!
The 49-year-old has been modeling since she was 15 years old — which means she's been owning the camera and the catwalk alike for over three decades.
And she's still going strong. She even reportedly dated a member of One Direction earlier this year!
Obviously everyone wants to know how she does it. Well, we have news for you — it ain't by carbo-loading!
Naomi stopped by ITV's Lorraine on Thursday to talk about her career and ended up dropping a bombshell about her diet.
SHE CAN GO DAYS WITHOUT EATING!
When asked about a rumor she often fasts for a whole day, she revealed:
"It can be more than one day. I eat when I feel like it."
Wow. She explained:
"I don't starve myself. If I want to do a day of just not eating, I do it, and just do water or juice. It depends how I feel. In the heat sometimes I don't, I just want to do juice, it's too hot.

It's never planned. It could be one day a week, could be two days a week, it's just when I feel like it."
So much energy and verve with so little food intake!
Again though, do NOT try this because you are NOT Naomi Campbell.
And she isn't even hangry!
In fact, she's the epitome of grace. She even says she's not shy about her age and "can't wait" to get to the milestone of turning 50.
"I'm so embracing of it… I tell people I'm 49, and they can't believe it…"
SAME, people!
We wonder if that diet is part of her secret to anti-aging or…
NO! We are NOT Naomi Campbell!
But maybe…
NOT NAOMI CAMPBELL!
Fine…
Phew, that was a close one!
The one-and-only Naomi continued:
"I feel good. It's a bit odd, I must say though, when I'm doing a fashion show and I'm between my two friends' daughters."
She ain't kiddin'!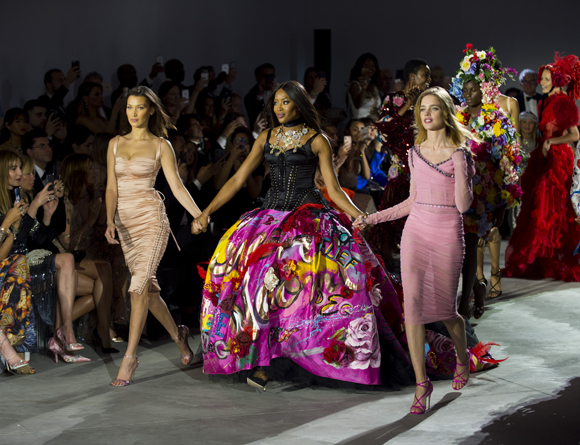 Is she embarrassed or awkward at all?
Heck no! She's Naomi Campbell!
While the experience is "odd," she says it's nice in a way:
"But I embrace that, too. I think it's great and just think, They're giving me a helping hand. And I've got to run around and come back down for the finale and there's lots of stairs and they're like, 'We'll help you,' and I look up and it's daughters of my friends….

I kind of feel that's special because their mothers embraced me and helped me when I started modelling, so it's like a 360 degrees."
Awww.
When asked if she feels like a fashion icon, as she's been officially named, she says she still doesn't.
"I think the word 'icon' just means you've put in your time. Put in your years or decades basically."
Fire. Absolute fire answer.
Naomi has definitely put in her time, that's for sure. And we are so happy she's still ready to put in more!
See the entire interview (below)!
[Image via Euan Cherry/WENN.]
Read more: http://perezhilton.com/